Dive into the daily dose of magic by learning italian over Skype! Never before was it so easy to learn a foreign language.
Italian lessons in an

efficient

flexible

pleasant

affordable

modern

easy

way.
As your italian-over-Skype teacher I will take you not only through italian languge and its segments, but through a variety of interesting texsts, exercises and everyday conversation I will also take you into the magic world of Italian culture, traditions, stereotypes, ways of life and other interesting facts related to Italy and Italians.
IT HAS NEVER BEEN EASIER
Italian language Lessons adapted to your pace of life.
When the day is too short even for the basic obligations, it is necessary to find a way so that the personal development does not suffer. Thanks to all accessible technologies you can learn Italian language in the comfort of your own home, at a time that suits you.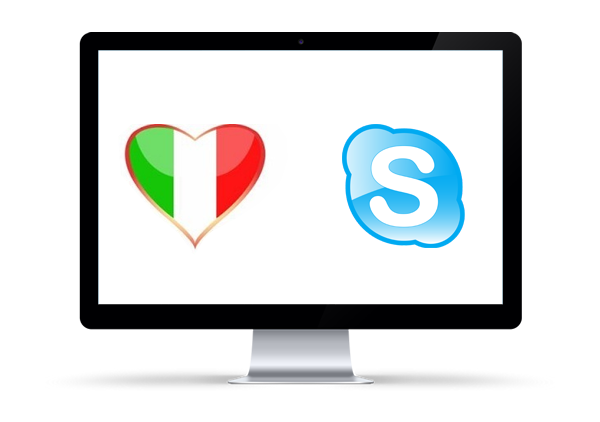 Ho avuto il piacere, per motivi di lavoro, di poter collaborare con la Signora Vesna per circa 6 mesi. Il mio pensiero nei suoi riguardi ha solo lati positivi. E' una persona estremamente disponibile nel dialogo, parla un italiano praticamente perfetto, e le poche volte in cui non conosceva determinate definizioni perché magari troppo tecniche, chiedeva delucidazioni per capirne il significato e usarlo di conseguenza appena possibile. Persona affabile anche dal punto di vista lavorativo, con la massima disponibilità nel risolvere eventuali problematiche, anche se non riguardavano direttamente le sue mansioni. Senza voler mancare di rispetto alle altre persone con cui ho collaborato in Serbia, ho trovato veramente poche figure dedite al lavoro come lei. E' stato veramente un piacere conoscere Vesna e lavorarci insieme.

- Roberto Peruch | Peruch refrigerazione srl | Codroipo (UDINE)
Vesna Vidić je bila moja prva profesorka italijanskog jezika. Zahvaljujući njoj sam uspela da propričam i savladam italijanski jezik što mi je pomoglo da se upišem na osnovne studije u italiji. Jedan je od retkih profesora koji insistira na govoru i fluentnosti jezika. Vesna je uvek nasmejana i puna pozitivne energiije koja podstiče svakoga da sa lakocom uči jezik. Uvek ima zanimljive teme i sva njena predavanja su isključivo na italijanskom. Komunikativna je i zna da bodri i najstidljivije učenike kako bi što pre propričali. Prilično je stroga što se tiče domaćih zadataka, jer ne dozvoljava da se neki od njih ne urade. Ako primeti da deo gradiva nije savladan, ona insistira na tome kako bi svi to savladali. Zaista je divan i sjajan profesor. Preporučila bih je svakome ko planira da uči italijanski jezik kao i onima koji žele da nastave da ga uče.

- Tijana Golubović | Grafički dizajner | Novi Sad
Friends! I want to share with you my impression about my Italian teacher. What can I say? A lot! Firstly, she is great person! Really. One thing that you remember every time before lesson: even if you are tired, close to die, you start your lesson with Vesna and feel better, feel inspired and full of positive emotions! It is very important when you work hardly and learn during tight free time. Secondly you really get a lot in Italian, in that speed and regime that is the most effective especially for you. Finally you never will hesitate to ask anything you need or don't understand. For me there is one more thing: additional practice in English, I am Russian so it is two times more useful to have English-Italian lessons.

- Anna | Brand Customer Manager in Merz pharma | Russia Moscow
Izuzetna professoressa. Vrlo profesionala. Nije ono na šta smo navikli kada su u pitanju privatni časovi. "...nema zabušavanja. Nećemo ići dalje dok ovo ne savladaš i ne obnoviš."-bile su njene reči na jednom od časova. Samo reči hvale!!!

- Bojana Vidović | Veterinar | Novi Sad
Vesna je profesor kod koga sam naučila ne samo da pričam, nego i da razmišljam na italijanskom. Sa njom sam naučila da razmišljam van šablona. Ona zaista na najbolji mogući način ume da dočara duh jezika, da iznese I predstavi materiju koristeći razne pristupe, koji odgovaraju svakom posebnom studentu. Časovi su ispunjeni, zanimljivi, drže pažnju I predstavljaju sa jedne strane odmor I relaksaciju, a sa druge strane izuzetno korisno provedeno vreme sa mnogo novih informacija. Akcenat je stavljen na obogaćivanju vokabulara I korišćenju što više različitih načina izražavanja. Kod Vesne ne postoje dva identična časa, i zato je svaki put nova avantura. Najiskrenije preporuke!

- Dunja Tasić | Novi Sad | Sales associate
8 Advantages of learning Italian over Skype
---